Solar and Geothermal Systems are the building blocks to build a Zero Energy Home
123 Zero Energy specializes in Solar PV, Solar Air, and Solar Thermal as well as Geothermal packaged systems and kits for home owners, contractors,& builders to create a Zero Energy Home. The concept of 1,2,3 originates from children's building blocks; simple in design and easy to understand. At 123 Zero Energy we take this concept to provide home owners with easy to install DIY solar and geothermal packages that can be used individually or built up together to form a complete home energy solutions.
A Zero Energy Homes is simply defined as a home that produces the same amount of free renewable energy as it consumes. This can be a gas, electric or oil or any combination. A Zero Energy Buildings does not have to be specially built or engineered. No expensive architecture or designer is required. In fact over 90% of Homes in Canada and the USA can utilize a Zero Energy Home System and eliminate their electric bill.
How is it done?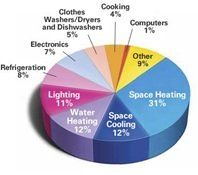 A Zero Energy Homes is one where the consumption equals the renewables produced. In most homes the consumption can easily be reduced in four main areas; Lighting, Water Heating, Cooling and Solar Space Heating. These four consumers of energy amount to an average of 66% or 2/3 of a home's energy bill.
Using a green energy systems such as Geo Thermal, Solar Water Heater, Solar Air Heating, Cold Weather Heat Pumps and Solar Home and Space Heating a home can reduce its consumption costs by as much as 75%. Other upgrades such as windows, insulation, energy efficient appliances and LED lighting are also important in reducing consumption costs. The balance of the consumption of a home is then subsidized with DIY Solar PV kits that utilize Grid Tie and Net Metering programs.
Net Metering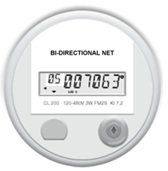 Our Renewable Energy System Packages are designed to take advantage of Net Metering. Net Metering is the ability to sell your own solar power back to the utility company. In Canada and the USA all states and provinces have net metering programs. Unlike Off Grid homes, our solar Grid Tie systems use no expensive batteries that need to be replaced. Instead the energy is stored in the grid and placed back into the home when needed at no cost. That is correct the meter actually turns backwards!
The simplicity of Net Metering means a home owner simply needs to add solar panels to a roof or ground mount in a southern facing direction and then simply plug into the main breaker panel. In most cases the utility provider will even cover the cost of a new bi-directional meter. This On Grid solar system has resulted in the reduction of PV system cost of 200-300% versus an Off Grid installation. Not to mention that global demand for Solar Panels and PV accessories has resulted in costs that are nearly 1/10 of what they were 10 years ago
What we provide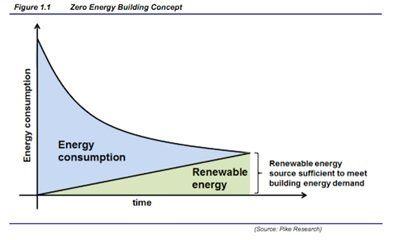 First we start with a Free Energy Audit to determine the current state of your homes energy consumption. This short survey gives us a base line to determine the overall saving. If you are building new we can also provide you with the same FREE energy audit services. We then provide you with a recommendation in energy saving systems. These systems can be installed and integrated together or they can be installed as building blocks over any period of time.
The balance of the system will be made of a completely modular and expandable On-Grid PV system that will provide you with the ability to cover as much of the home's energy deficit as required. This system can be expanded on any time allowing home owners to grow into.
We are located in Winnipeg Manitoba and can provide turnkey solar installations and Geothermal installs. We are a certified solar installer for Manitoba Hydro's solar program as well as Manitoba's MGEA certified geothermal installer for Provincial tax incentives. For other provinces and US and Caribbean we have a full dealer network. We also can be contracted for large commercial projects and design. Our solar installers are fully insured both in Manitoba and throughout Canada for both residential and commercial installations.
Financial Paybacks
Did you know our PV On-Grid Systems have a 25 year warranty! This means the life expectancy of our system can be amortized just like a home mortgage. As a Net Metering Customer you are also entitled to write off your green energy assets just like any business! The other major benefit is the increase in the value of a Zero Energy Home can be as much as 40% compared to a traditional home!
If you own a pool or hot tub our systems can also be applied to reducing the operating costs. Solar Pool Heater are the most affordable way to enjoy year round pool heat without the large energy bills.
Our Energy solutions qualify for low interest funding under the Earth Power Loan with no down payment required and include our four key energy system packages.
Geothermal ground source heat pumps (upto $20,000)
Cold climate air source heat pumps (upto $10,000)
Solar thermal water heaters (upto $7500)
Solar photovoltaic (up to$30,000)
While the paybacks are great for home owners, there are other tax incentives and financial rebates that can make a Zero Energy Buildings the wisest investment you can make. Let us help you save money while doing your part making this world a greener place! Call us to get your affordable Zero Energy Homes Audit to show you exactly how much you can save!