Design and Deliver of Solar Thermal Project for Sandal in St Lucia, Caribbean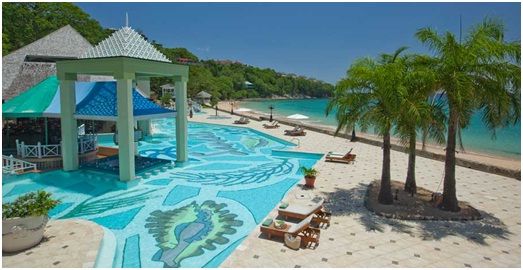 Northern Lights Solar Solutions in conjunction with Sandals Resorts, St Lucia completes delivery of solar thermal project for La Toc resort project which includes solar thermal pool heating for all private villas.
After 2 years of design and testing, Northern Lights has fulfilled the demands of SandalsLa Toc located in the Caribbean on the island of St Lucia. Even though the sun and temperature make this tropical paradise ideal for swimming, the management and ownership of Sandal's Resorts were tasked with the goal of increasing the small private villa pools to a temperature of 90 degrees. Traditional solar pool mats were used in the past but they could not reach the desired operating temperatures.
Management hired Dan Jung of Northern Lights Solar Solutions (123ZeroEnergy.com) to design a system that could meet the goals as well as provide a more reliable operating solution. The intense sun lights quickly deteriorated the plastic composite of the traditional plastic pool heaters within 2-3 years leaving unsightly roof leaks and stains not to mention the constant repair.
While the Caribbean is a warm climate it is also consistently windy and the wind acts as radiator removing as much heat as it provides causing the pool temperatures to peak at about 80-82 degrees. These private villas are secluded and often don't see much sunlight. These are often used in the evenings and customers were complaining that they were too cold, says Sandal's management.
By implementing a vacuum tube solar pool heater, Northern Lights were able to increase the temperatures and at the same time provide a system which can handle the high radiation levels. The vacuum tube are not effected by winds and operate all day long even in cloudy periods. Not to mention the reliability and provide many years of service.
The choice was to either install heat pumps or propane heater to heat the pools which consumed electricity or gas which is a premium on this small island or harness solar energy in a way that could deliver. The estimated payback of the solar system versus an electrical or propane system was a driving factor to implement the new systems across 20 + villas. The saving amounts to over $250,000 USD when compared to gas or electric solutions.
For more information on the solar pool heating systems you can visit Northern Lights Solar Solutions. Or call them 1 800 759 8990.