How Does It Work?
A solar water heater is a system that harnesses the sun's electricity directly via heat energy. Unlike solar Photo Voltaic the sun's energy is captured in the form of usable heat energy. This type of system is ofter 4-5 more efficient utilizing 60-80% of the captured heat energy versus 12-16% in a PV system.
A solar collector uses a vacuum tube to capture the sun's heat energy and transfers it to a heating fluid located in a closed solar loop. The heating fluid is then transferred via small pump through an internal heat exchanger located in the bottom of the domestic water tank. The hot fluid loses its heat energy to the colder domestic water and circulates back to the solar collector to be reheated by the sun's thermal energy.
A differential controller is used to turn the pump on and off depending on a temperature differential between the heating fluid and the tank's water temperature.
A second heat exchanger located in the top of the water tank can be used to move energy located in the storage tank to a second heating zone such as in floor heating in winter or a pool or hot tub in the summer.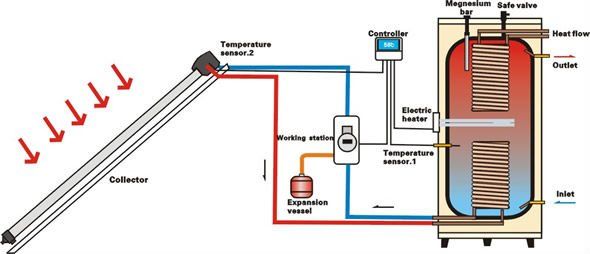 Product Descriptions.
Solar Thermal Heating Package provides both heat for domestic hot water usage but can also be expanded to include other secondary heating sources such as home heating or pool and hot tubs. This system represents the highest performing Pre Packages solar hot water system in Canada and is CSA F379 certified.
The pre-engineered system is designed as a complete system and uses the revolutionary Plug n Save technology for quick reliable assembly with no soldering required. The state of the art vacuum tube solar water heaters are ideal for Canadian winters with almost no change in performance even at -40.
Advanced Features:
UL certified solar storage tank with dual heat exchangers
4.5 Kw back up element
Stainless steel flex housing for quick connections
Pump station with digital RESOL solar controller with option remote monitoring
Pre-mixed solar glycol
Auto Solar Air Vent
SunRain TZ58 1800 30R collectors yielding highest performance in North America
Roof Mount Frame System (optional adjustable ground mount)
Types of Solar Thermal Heating
Our solar thermal heating systems are modular and can do two types of heating zones with one system. We offer turnkey packages that can do domestic hot water, space heating, pool or hot tubs. By combining two or more of these zones you can optimize the investment and also increase the systems performance.