How Zero Energy Home Works
How Zero Energy Home Works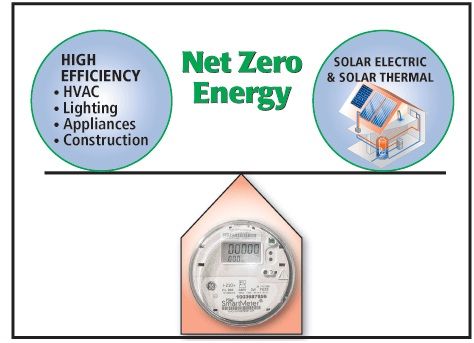 A Zero Energy Home is a concept that can be implemented in nearly 90% of the home built in Canada and USA. It is a concept that focus on reducing the energy consumption and then covering the balance of the demand with a simple Grid Tie Solar PV System. Instead of using batteries to store the energy a Zero Energy Home takes advantage of Net Metering to store excess energy when it is not needed.
A Zero Energy home is not an off grid home that uses only its own energy, instead it is a hybrid home that uses both green energy as well as traditional grid energy to balance the homes consumption.
The concept of Zero Energy Home is based on balancing the amount of energy required. Ultimately a Zero Energy Home strive for a Net $0 annual cost. In some cases the winter months may have higher operating cost that the summer as heating bills can be a a significant portion of the operating cost. Solar PV typically has less performance in the winter as the daylight sun hours are shorter. However in the summer months, a Zero Energy home can make up the shortfall in has in the winter by giving back excess energy to the grid. Long daylight hours help to produce excess PV power that is credited back to the home owner in the grid.