Stainless Steel Hydronic & Solar Lines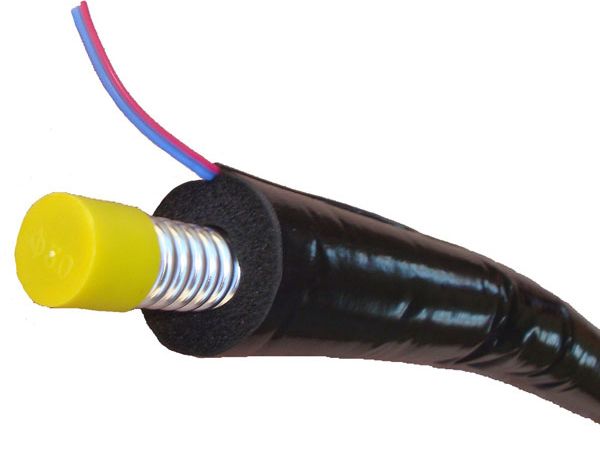 Stainless Steel Line lets for Hydronic and Solar Water Heating have become very popular for a few reasons.
Ease of Installation – No Soldering of any type required. Simply cut the pipe to length and use the flare tool to make your end connections. The Aurora Flex Stainless Steel piping is so easy to work with it literally reduces installation times in half.
No leaks. The High Temperature ceramic gaskets are rated to 350 C (660 F) and will ensure a permanent leak free joint that can handle extreme heat and cold.
Pre-Insulated pipe jacket. The stainless steel line comes with ¾" EPDM high temperature foam insulation and a moisture proof barrier surrounding the insulation. This is not Polyurethane foam that has melting temperatures around 100 C this EPDM foam can handle temperatures exceeding 200 C.
Low Voltage wire for temperature sensors including under the weather proof jacket. This means no extra wiring to run sensor wires.
Cost – Stainless steel line sets cost less than copper and when you add up the cost of the EPDM insulation and time factor you can greatly reduce the overall installation cost whether you're a home owner or a contractor.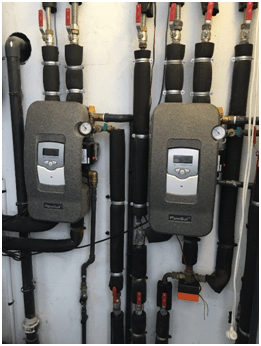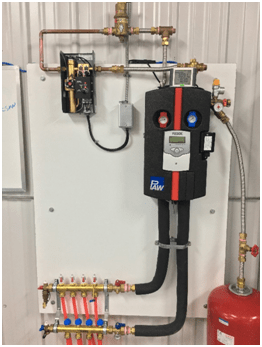 Available in Nominal ID sizes of ¾" and 1" as well as larger size available by request. Both Male and Female FTP fittings available. Generally this pipe is used to replace cooper or black pipe from the boiler to the pump and in floor manifold. It does not replace PEX for the in floor loops.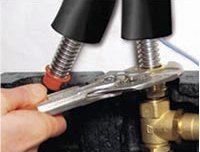 No Soldering- Leak FREE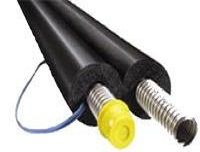 3/4" 304 Stainless Steel pipes
Installation Procedure: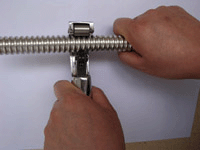 Step one:
Cut the hose to your desired length with cutter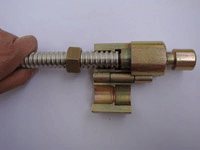 Step two:
Put a fitting onto the solar hose, put one end into flange tool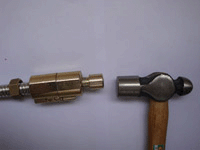 Step three:
Use a hammer to flatten the end of the hose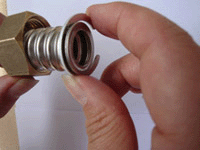 Step four:
Squeeze on the Solar hose stainless steel Circlip on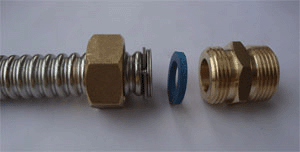 Step five:
Insert High Temperature ceramic gasket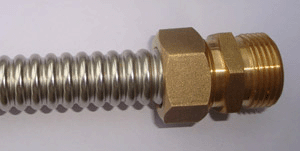 Step six:
Tighten with wrench for a guaranteed leak free seal!
High Pressure/ High Temperature Fittings

| No. | Item | Material |
| --- | --- | --- |
| 1 | Nut | Brass |
| 2 | Metal Hose | SUS304,SUS316L |
| 3 | Gasket | High Temperature ceramic gasket. Rated to 350 C or 660 F |
| 4 | Cir-Clip | Stainless Steel SUS304 |
Technical specifications:
INSULATION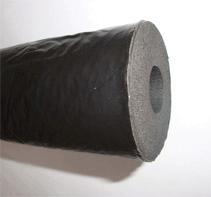 | Material | High quality synthetic elastomer (EPDM based) with a complete closed-cell structure. |
| --- | --- |
| Temperature range | From -50 °C to +150 °C (up to 175 °C operating intermittent.) |
| Flammability :actual burning behaviour | DIN 4102-B2 self-extinguishing, no fireball drops, limited fire spreading |
| Water Vapor permeability | u>3000 |
| Thermal Conductivity W/(m.K) | R 4.8 (.035 W/mk) |
JACKETING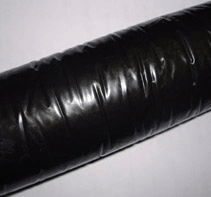 | Material | UV resistant and high mechanical resistant protective film |
| --- | --- |
| UV Resistance | Excellent UV and weather resistant properties |
TEMPERATURE SENSOR WIRE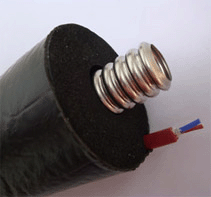 | Temperature Range | from -50 C to +200 C |
| --- | --- |
| Flexible Copper | 0.75mm2 |
| Wire Insulation | Silicon |
| Rated Voltage | 300/500 V |
| Electric Resistance | 23.0 Ohm/km |