Prepackaged Solar Home Heaters and Solar Space Heaters

Solar Home Heating or Space Heating is an ideal way to harness the sun's energy. By using advanced vacuum tube collectors a solar heating system can work in temperatures of minus 40! Our heating systems use a special solar glycol heating fluid that can work in artic temperatures but also with stand high temperatures of up to 480 F. Heat is capture in the collectors and moved to the house through a closed loop system. The heat can then be transfer into the home through radiant floor heating loops, hydronic radiators or through air to water heat exchanges placed in a forced air furnace.
The entire heating loop is controlled by a solar differential controller and a pump. The controller maximizes the systems performance while turning on/off the pump (s) as needed.
Most Home Heating applications will also involve an energy storage tank. This is a high insulated tank that is capable of storing the heat for days until it is needed. Most homes in Canada and Northern USA will require more heat energy at night when there is no sun. The sun's energy is stored through the day in the storage tank for future use. A storage tank is the same as a battery in a solar PV system.
Dual Zones - Space heating works best when combined with a second zone such as domestic hot water or a pool or hot tub in the summer. In this way you can use the solar energy in the summer and winter. If a summer zone is not available then the system will have to be covered in the summer to shut it off. Special custom covers can be purchased.
Domestic Hot Water and Solar Space Heating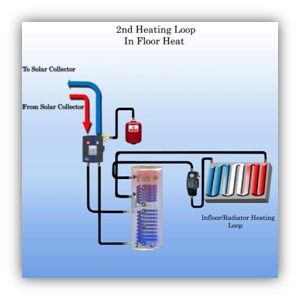 The solar storage tank also acts as the domestic hot water supply to the house. Excess energy is pumped through hydraulic radiators or PEX tubing in concrete floors.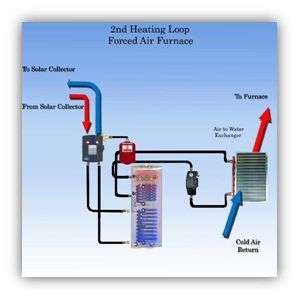 Solar storage tank is integrated with a heater located in the furnace the hot heating fluid's energy is transferred to the air through an air to water heat exchanger or a Hot Water Fan Heater such as a Modine.
Multiple tanks can be used to create more storage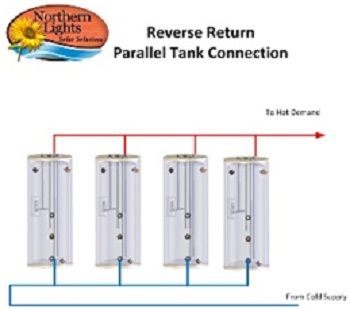 Sizing a Home Heating System
Each home is different and as such the size of the house, its climate and the insulation value of the home will play a big part in choosing a proper solar space heater.The larger system the more storage will be needed. Generally for Northern Climates we recommend 1 x 30 tube vacuum collector for every 300 square feet. In warmer climates this can be reduced to 1 x 20 tube vacuum
collector for every 400 square feet.
Storage tank should be equally sized to match the number of collectors. The rule of thumb however is more is better when it comes to storage size. Most tanks come in 50, 80, 119 gallon sizes for larger homes it is best to add multiple storage tanks and run them in parallel. We recommend minimum of 40 gallons per 30 tube collector so a 3 collector system will require 120 gallons of storage.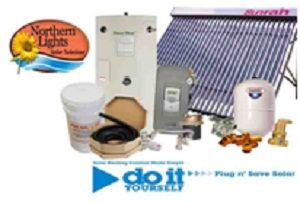 Home Heating Packages Include
SunRain TZ-58 1800 30R Vacuum tube collectors
Roof or Wall mount frame kit
SolarStor solar water tank; incudes built in heat exchangers with 4.5 Kw Back up heating element UL & CSA certified
RESOL FlowSol pump station with integrated RESOL digital controller for two heating zones
2nd SunRain Pump Station and Expansion Tank
Aurora Solar Flex 3/4" OD stainless steel piping, pre insulated and weather proof with sensor wire
all quick connect Aurora Flex Fittings for fast installation (no soldering)
pre-mixed ProSol LH-T high temp (475F) solar heating fluid for vacuum tube collectors
positive displacement drill pump for filling and servicing
Varem Expansion tank - Specifically designed for solar heating
SpirotechAutoClose Solar Air Vent - World's only solar Auto Air Vent!
complete solar installation manual and free technical support
Solar Home Heating with Forced Air Furnace
Solar Heating with Infloor Hydronic Heating