Monitoring Solar Thermal Heating Applications Performance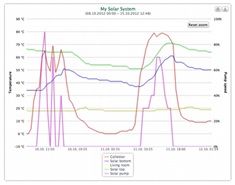 Monitoring a green energy program is both fun as well as provides useful data to ensure your system is running at peak performance. The remote monitoring systems are very easy to set up and can be used on any platform such as your smart phone, tablet or PC. The only requirement is that you have an internet connection.
We use two different remote monitoring systems depending on the type of energy system the customer has installed. For On-Grid and Off-Grid solar voltaic projects we use Enphase's Enlighten monitoring plat form. This is quick to install and simply uses the existing home electrical outlets to communicate. For solar thermal heating applications we use the powerful VBus.net platform. This is similar to the Enlighten program in that both are web based and accessible from anywhere in the world. Both also have real time display as well as historic graphical display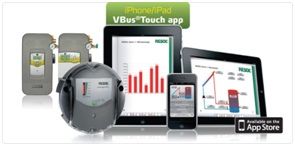 RESol Vbus.net for solar thermal heating. You can view a live monitoring site and watch a video to see how it works.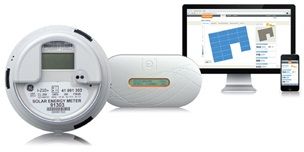 Enphase's easy to install Enlighten Monitoring system for solar PV projects. Simply plug in to the wall and you're ready to go!