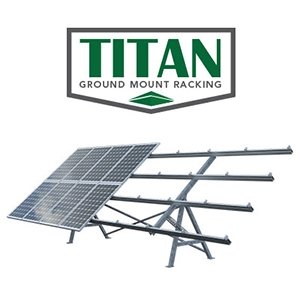 Titan Ground mount solar racking is fully modular allowing you to build arrays to suit any size with each module holding 16 panels (2 rows of 8). The unique feature of the Titan solar rack is the ability to adjust the pitch angle for seasonal optimization. This allows you to increase your solar system yield by over 10% annually versus fixed rack systems.
Robust manufacturing with hot dipped galvanize steel, anodized aluminum and stainless steel hardware.
Adjustable tilt angle from 30-60 degrees to optimize the latitude and season sun angles.
Modular can easily be expanded in the future. Each modular holds 16 collectors
Speed and cost of install is greatly increased with Clicloc fasteners and built in cable management with integrated micro inverter mounts built in grounding