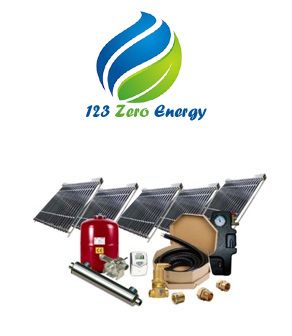 Complete Solar Pool Heating System for up to 500 ft2 pool size* using SunRain TZ58 1800 30R evacuated collectors - The Highest Performing Solar Water Heaters in North America!
This High Efficient Solar Pool Heating System is the most advanced solar pool heater on the market. The vacuum tubes outperform any black plastic pool heaters of the past. With a life expectancy of 20 plus years!
*Note pool heating size is an estimate and will vary depending on pool type, location, and season. Solar cover should also be used.
Features:
Not effected by cold temperatures
Works even on cloudy days!
Not effected by wind!
No deterioration from chlorine or sunlight
5 times longer life expectancy versus plastic mat pool heaters
No stress on pool pump
Full digital controller
No leaks!
What is included:
5 x TZ58 1800 30R Vacuum Tube Collector
Roof mount brackets
100 ft stainless steel Aurora Flex solar piping 5/8" with 3/4" high temp EPDM insulation plus sensor wire
SunRain Pump Station with fill drain valves, temp gauge, pressure release, glass flow meter, Wilo Star 16 3 speed pump
Stainless Steel Heat Exchanger SP-300
Solar Expansion tank - high temp rated
Spirotech Air Vent
Fill Drain Positive Displacement drill pump
RESOL Solar AL Controller with 1 relay output and 3 temp sensors
All quick assembly brass fittings