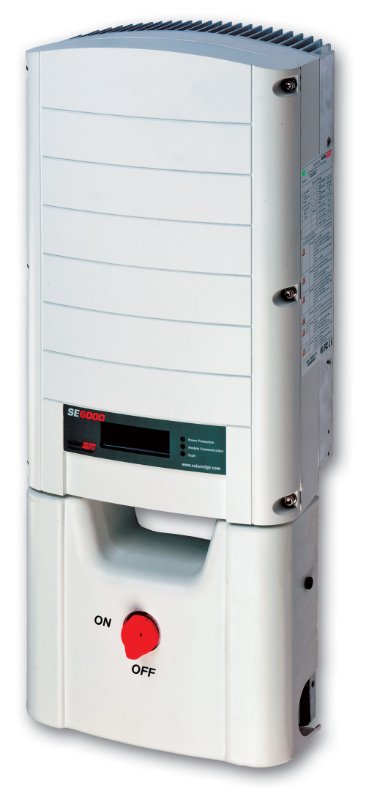 Hybrid String Inverter
The SolarEdge PV inverter line combines sophisticated digital control technology with efficient power conversion architecture to achieve 25% superior solar power harvesting and best-in-class reliability. The SE provides optimal DC/AC conversion regardless of the string length. A proprietary data monitoring receiver has been integrated into the single phase solar inverter and aggregates the power optimizer performance data from each PV module. This data can be transmitted to the web and accessed via the SolarEdge monitoring portal for performance analysis, fault detection and troubleshooting of the Solar Array.
The single phase inverter comes with a built-in DC switch, is lightweight and can be installed by a single person on a supplied bracket.
Single Phase Inverter Feature highlights:
Solar inverters specifically designed to work with power optimizers increasing yields by up to 25%
Superior efficiency (>97%)
Excellent reliability with standard 12 year warranty (extendable to 20 or 25 years)
Small, lightweight and easy to install
Built-in module-level monitoring receiver reduces energy loss b mismatched and partial panel shading
Communication to internet via broadband or wireless ZigBee
IP65 / NEMA 3R – Outdoor and indoor installation
Integrated arc fault protection (Type 1) for NEC 2011 690.11 compliance
Optional Rapid Shutdown functionality for NEC 2014 690.12
Optional revenue grade data, ANSI C12.1